I love the 1944 classic "Baby it's Cold Outside" by Frank Loesser. Every time I hear,"Baby, it's Cold Outside," I think of a cozy fire on a cold and blustery night. The crackle of the red oak burning under flame is one of my favorite things to take in this time of season. Did you know that there are some risks when it comes to a fireplace? When you're having a home inspection, you'll want the inspector to take a close look at potential safety hazards that come along with the hearthside.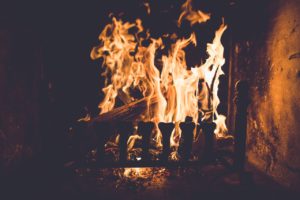 A standard home inspection will include an overview of the fireplace and the home inspector can tell you if you need a more in-depth fireplace inspection.
The first thing to check in a fireplace inspection is to see if the fireplace is venting properly. Opening the damper is important when lighting a fire in the fireplace. If you don't open the damper, all of the smoke from the fire will flood into your home. This could lead to black smoke stains on the area around the fireplace, which signal a fireplace isn't venting properly. A home inspector will notice this during a fireplace inspection.
Check the wall of bricks in the fireplace. Do they look clean? If the bricks in the fireplace are dirty, that means you need to hire someone to come clean your chimney. Another common problem uncovered during fireplace inspections is bad bricks. If the bricks in the back of the fireplace are loose or deteriorating, that can be a potential fire hazard. During a fireplace inspection, if the inspector finds a problem, that should be a priority for you. Fixing fireplace issues will ensure that your home is safe and ready for sale, if you're trying to sell it.
If you're having your home inspected before selling or buying, make sure the inspection includes a fireplace inspection.
A home inspector can tell how often you use your fireplace during a routine fireplace inspection. The more you use your fireplace, the dirtier your chimney will be and with increased use, there's an increased chance that the bricks will worsen.
If your home inspector finds problems during his routine fireplace inspection, a level II chimney inspection might be needed, which includes a video. In a level II inspection, a home inspector who specializes in fireplace inspections looks up the chimney to make sure it's safe–that means looking for cracks and damage.
Make sure to have a home inspector take a look at your fireplace. They'll make sure it's safe for you and your family to enjoy. Plus, you'll give Santa a clean chute to come down when he puts presents around the Christmas tree!